Conan and Tatum are two new guys making their debut at chaosmen for you this week. We assessed their skills, and good news, they are perfect material, big cocks and tight asses ready to be fucked, as you'll see from their first scene together. Conan and Tatum sure got to have lots of fun today and as usual you get to see every little detail of their nice and hard fuck together in this nice picture gallery today. Sit back and watch the hunks start off their little fun session as they meet up, and see them starting to get naughty. They moved to the bedroom though and locked the door as to not be disturbed.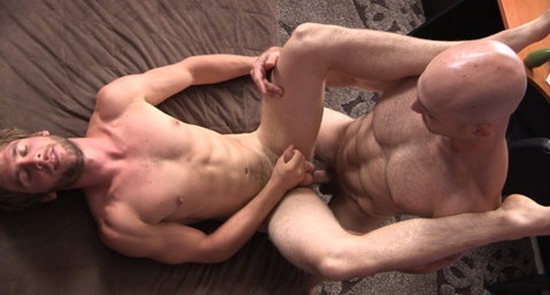 So their nice little fuck fest started off with our two dudes engaging in a nice and sexy little kissing session. You just need to see that kind of foreplay go down with both of them as the kiss passionately and caress one another's amazing bodies just for your enjoyment. Watch as Conan is the one to accept the dicking today from his fuck buddy, and sit back to watch his asshole getting stretched. Tatum shoves his big and hard cock in his ass and just pounds that nice and round butt balls deep for this nice and hot sex session today. And throughout the scene you get to see Conan moan in pleasure of the nice dicking!
Watch as this cute guy gets his ass roughly fucked!