Hey everyone! chaosmen is back and it's returning debut has two new hot guys engaging in some wild sex for the night. They're named Carson and Bishop, Carson being the most experienced out of the two. Bishop is new to all this, but luckily he had a pair of very helpful hands to guide him. As the two fucked each other like there was no tomorrow Carson unloaded into Bishop's mouth and like the good boy he is he swallowed it all up. Let's not waste time and see another sizzling hot and amazing update with two hot hunks!
Carson and Bishop are two of our best guys. And we're really proud of them as well as they always make sparks fly when they share a scene and a bed together. In true classy fashion, you can see as they start off by sucking off each other's cocks. Then Carson bends over to take a nice and hard anal pounding and that gets followed by Bishop as he gets on top of Carson at the end too to ride his cock cowboy style as well. Enjoy seeing these two in action and watch them blowing their loads all over one another!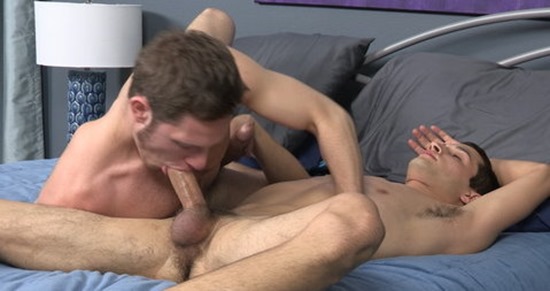 Watch these two horny guys sucking one another's dick!